25/05/2017

Lisbona

Teatro Municipal Joaquim Benite

19.30
ELEONORA
IN PORTOGALLO CON
"IN A BETTER WORLD"
Dopo Francia, Spagna, Italia e Polonia, continua il tour europeo di "In A Better World", spettacolo teatrale di Francesco Zarzana che vede in scena Eleonora Mazzotti. La nuova tappa è prevista per il 25 maggio in Portogallo, per la precisione al Teatro Municipal Joaquim Benite di Almada (situato nel distretto di Setubal, regione di Lisbona).
Sostenuto dal progetto europeo LADDER (Local Authorities as Drivers for Development Education and Raising Awareness) che prevede la presenza di ben 26 partner e 20 associati, provenienti da 18 Paesi dell'Unione Europea e
17 extra UE.
"In A Better World" miscela racconti, musica e canzoni in un linguaggio universale che è quello dell'arte, attraverso il quale si racconta ciò che succede attorno a noi: dalla storia di una migrante arrivata in Europa tra le poche superstiti di un barcone e che è stata testimone di tragedie e disperazione attorno a sé, agli occhi di una giovane ragazza che vuole dare il proprio contributo per rendere questo mondo migliore, alle visioni poetiche di chi affida ai versi la volontà di dare al pubblico strumenti per una attenta riflessione.
Sul palco, insieme a Eleonora, ci saranno Elena Polic Greco, Fabiana Spoletini e Valérie Marie.
Eleonora sarà protagonista di emozionanti momenti musicali e canterà in varie lingue, compreso l'ebraico. Nel suo repertorio non mancherà naturalmente l'incantevole "Among The Waves In The Sky" il suo singolo attualmente in radio e disponibile negli store on-line.
Quest'ultimo, lo ricordiamo, è anche tema portante del docu-film "Tra le onde, nel cielo" sempre diretto da Francesco Zarzana.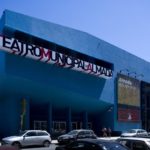 Ufficio stampa Eleonora Mazzotti:
Laura Frigerio
comunicati.frigeriopress@gmail.com
3391434112